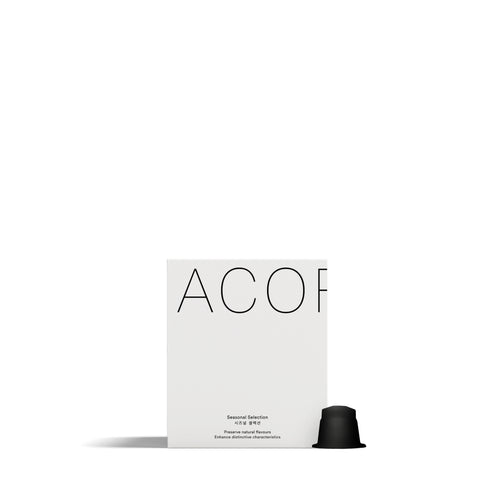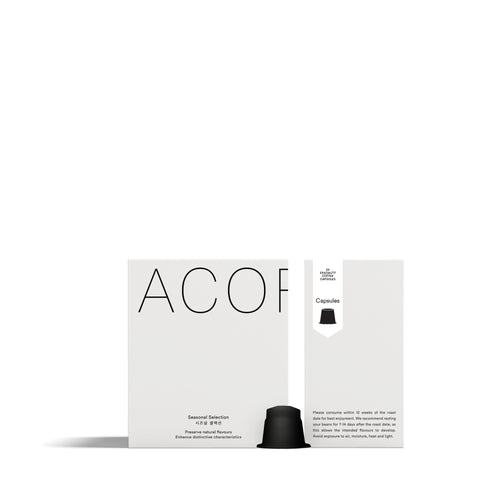 ACOFFEE is now *compatible with your capsule coffee machine.
Taste our signature brews with the ease of popping a capsule into your home machine. Roasted in our Melbourne Roastery and Showroom, this coffee is 100% ACOFFEE approved for Nespresso Original and  compatible capsule machine use.
*compatible with Nespresso Original type capsule machine only.
Alaka Natural Espresso
Orange, Honey, Caramel
Guji — ETHIOPIA
Heirloom Variety, Natural
Kecho Washed Espresso
Bergamot, Cranberry, Black Tea
Jimma — ETHIOPIA
Heirloom Variety, Washed
Seasonal Espresso
Wine, Malt, Almond
Colombia, Ethiopia, Brazil 
Various variety and processes
Danseakhwa Espresso
Nougat, Almond, Melon
Brazil 
Various variety, Natural process
Comes in a box of 20
Capsules are home compostable, box is fully paper recyclable.
*Seasonal Espresso and Danseakwha Espresso are in aluminium capsules, not compostable.
ACOFFEE Capsules
ACOFFEE Capsules
Regular price

Sale price

$12.14
Tax included.
Shipping
calculated at checkout.
Couldn't load pickup availability